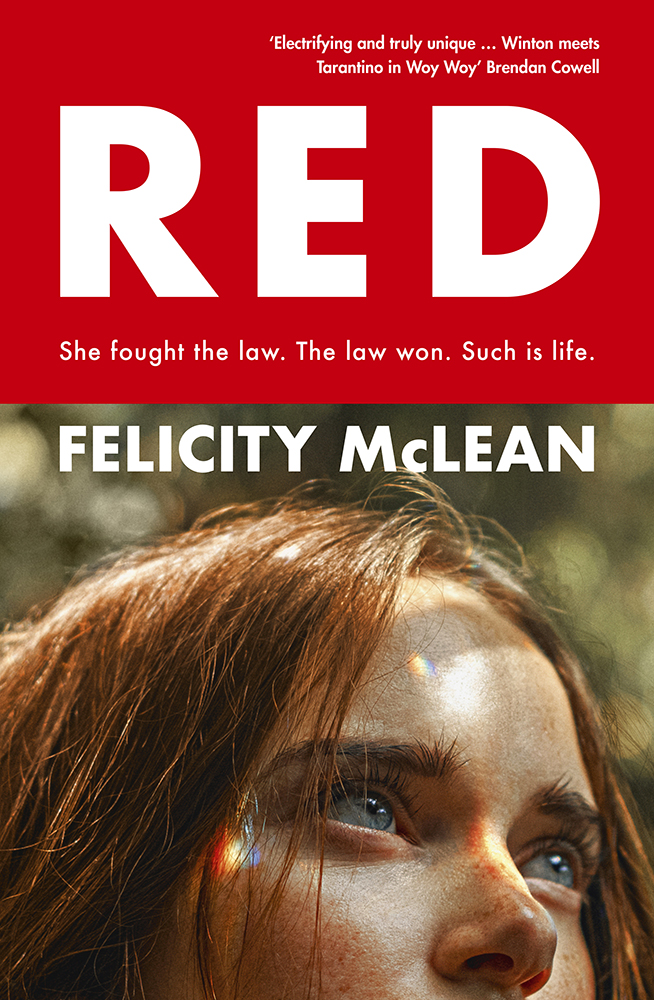 Brilliant! This is a film waiting to happen.

—Sacha Horler, AFI award-winning actor
This electrifying and unique revamp of the Ned Kelly myth will leave you breathless… Winton meets Tarantino in Woy Woy and it all makes perfect sense to me. I loved this book – a truly wild ride.

—Brendan Cowell, award-winning actor and writer
Filled with simmering tension, Red is both tragic and darkly comedic … By drawing inspiration from [Ned] Kelly, McLean shines a light on the idea that, though over 100 years have passed, too many ugly truths stay the same.

—Books+Publishing
A smart, classy thriller that blazes with the heat of Australia and slowly reveals its many layers.
—Fiona Mozley, author of Man Booker Prize finalist, Elmet
…readers who enjoy something haunting, atmospheric and genuinely mysterious have a treat in store.
—The Guardian UK
I loved it.

—Bryan Brown, multi award-winning film and television actor
A smart debut. Beautifully atmospheric with its great sense of time and place.
—Melina Marchetta, author of Looking for Alibrandi
If there's a more compelling summer book description than 'The Virgin Suicides-meets-Picnic at Hanging Rock', I don't know what it would be. Such was the description given to me about this book, and it doesn't disappoint.
—Nylon
One part mystery, one million parts amazing, this debut from Felicity McLean will be a summer fave.
—Cosmopolitan US, Best Books of June
It is addictive. It is mysterious. It is compulsive and it is going to be one of the big books of 2019.

—Jon Page, Pages&Pages Booksellers
McLean peels back the layers of one scorching Australian summer, revealing the dark secrets and lies hidden behind the cheerful facade of suburbia. This debut, part coming-of-age story and part crime thriller, is both forceful and unnerving.
—Publishers Weekly US
The Van Apfel Girls are Gone calls to mind The Virgin Suicides, Picnic at Hanging Rock with a dash of To Kill a Mockingbird. Certainly the writing bears the comparison.

—Kate Downey, The Leaf Bookshop
I deeply admire the languid, lived-in prose of Felicity McLean's lovely novel…
—Hannah Pittard, author of Visible Empire
It is page-turning literary fiction, in the same vein as Jasper Jones by Craig Silvey, or more recently, Holly Throsby's work.

—Annie Condon, Readings
…eerily dreamy, filled with unknowable secrets in the form of blonde, barefoot ghosts in cotton dresses.
—The Saturday Paper
This debut coming-of-age mystery is a haunting story of bewilderment and lost innocence . . . The news stories and descriptions evoke 1990s Australia in this engrossing, atmospheric debut.
—Library Journal US, starred review
Sharp, mysteriously moving and highly entertaining.

—Robert Drewe, Walkley Award-winning journalist and author
This novel is one that will haunt readers long after they have turned the last page.

—Angela Elizabeth, Books+Publishing
…exceptional piece of storytelling.
—Australian Book Review
…McLean's book sings its own song.
—The Australian
mesmerising
—The Daily Mail UK
mesmerising
—The Sun Herald
Journalist and author Felicity McLean's debut has drawn comparisons to Jeffrey Eugenides' The Virgin Suicides.
—LA Times
…one of the most anticipated books to read in 2019.
—Reader's Digest US
How do you escape your childhood? This compelling mystery by Felicity McLean has a rare depth of psychological and emotional truth. It will engage your heart.
—Delia Ephron, New York Times bestselling author of Siracusa
Engrossing and goosebumpy from start to finish… a novel that is as delightful as it is terrifying, and just scary good.
—Tim Johnston, bestselling author of Descent and The Current
McLean's prose is masterfully compressed.
—The Sydney Morning Herald
A taut, beautifully written thriller with a scorching expansive setting. The Van Apfel Girls Are Gone is a fantastic debut and a story that lingers.
—Lisa Ballantyne, author of The Guilty One
A wry, sad coming-of-age story and a well-crafted first novel.
—Kirkus Reviews
A 2019 thriller you need to know.
—Bustle
Containing summer friendships, whispered secrets, and a dark, hidden truth, Felicity McLean's The Van Apfel Girls Are Gone is poignant and jarring . . . a blazingly well-written, impressive, and deeply satisfying thriller.
—Foreword Reviews US, starred review
The story is a compelling one, with a nice layer of suspense that keeps the pages turning until its hauntingly melancholy end.
—Booklist US